Hot Off The Presses Funny
By Desiree Eaglin Leave a Comment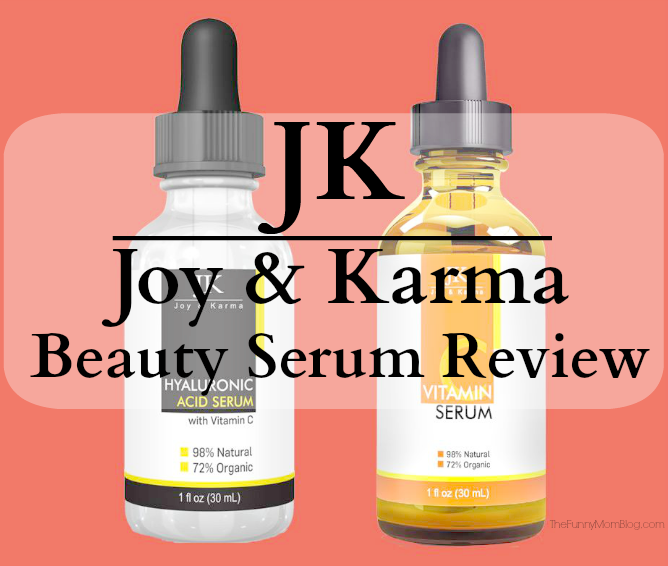 These last 10 years have just flown by in the blink of an eye. In fact time has passed so quickly that I still think of myself as a young 20 something year old most days. Well, that is until I stop in front of a mirror and get an up close view at my face. What I see is where once my skin was tight and supple in my early 20′s I now see signs of sagging and gasp! wrinkles. I think motherhood and a serious lack of proper skincare has me a bit weathered.
"We ain't gettin' any younger honey, it's about time we started getting serious about our skincare routine" said me, to myself in the mirror just a few weeks ago.
I have to admit I have never been a woman that took really great care of her skin with multitudes of skincare products. My busy lifestyle requires easy products that actually work. I simply do not have the luxury of hours of time to spend in the bathroom on skincare. When given the opportunity to review Joy & Karma beauty serum's I was more than pleased to oblige, all opinions are my own.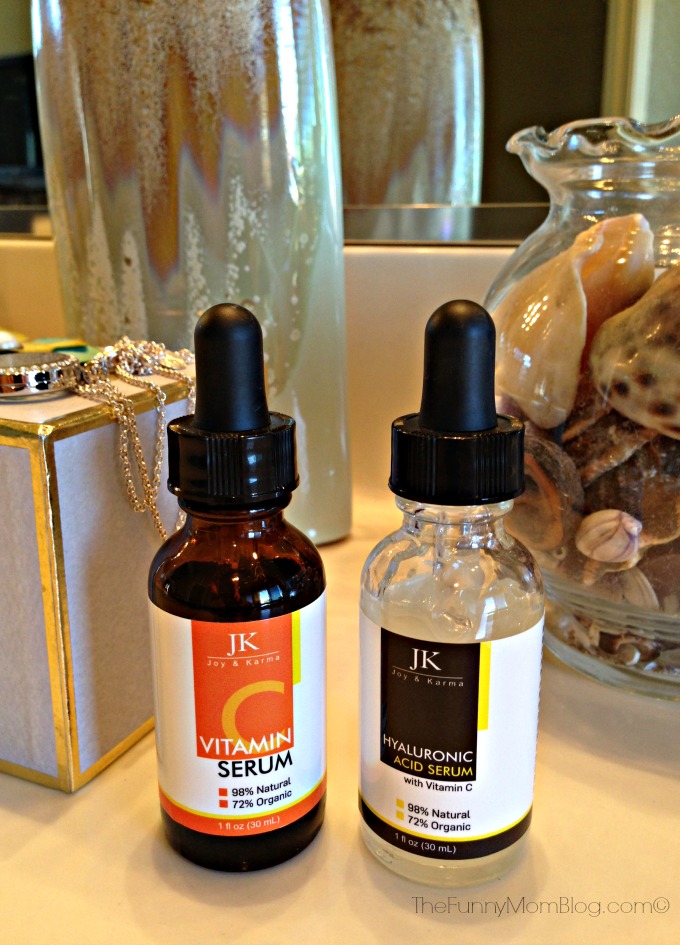 Joy & Karma offer two types of beauty serums: Vitamin C Serum and Hyaluronic Acid Serum. Both are made of 98% natural ingredients. I mean, doesn't nature know what's best for us anyway so doesn't it make sense to purchase beauty products made of God's bounty? Joy & Karma's mission is to provide consumers the most natural and healthful products as possible. And that I love.
Hyaluronic Acid Serum
Hyaluronic Acid Serum is made up of 98% natual ingredients including:
★ Aloe Vera: Soothing moisturizer packed with beneficial nutrients
★ Witch Hazel: Dr. Oz recommends witch hazel for treating acne & insect bites
★ MSM: Helps body manufacture glutathione – a powerful antioxidant
★ Jojoba Oil: Helps regulate sebum resulting in less oily skin
★ Green Tea: Combats free radicals with its antioxidant properties
★ Geranium Essential Oil: Stimulates wound healing and reduces inflammation
★ Vitamin C
★ Vitamin E: Protects and repairs your skin by acting as an antioxidant
Hyaluronic Acid Serum is known for keeping your skin plump and hydrated, making your skin softer and smoother and improving skin elasticity plus reverse free radical damage.
Vitamin C Serum
★ Aloe Vera Leaf: Nutrient rich soothing moisturizer
★ MSM: Assists body to produce glutathione – a potent antioxidant
★ Hyaluronic acid: Locks in water – holds up to 1000 mL per gram of HA
★ Witch Hazel: Dr. Oz recommended ingredient to "treat acne & insect bites"
★ Jojoba Oil: Popular and effective moisturizer
Vitamin C Serums are well known for their ability to reduce the appearance of wrinkles by stimulating collagen production, defend against damages from free radicals with antioxidants, help minimize the appearance of age spots from sun damage and improving overall skin tone.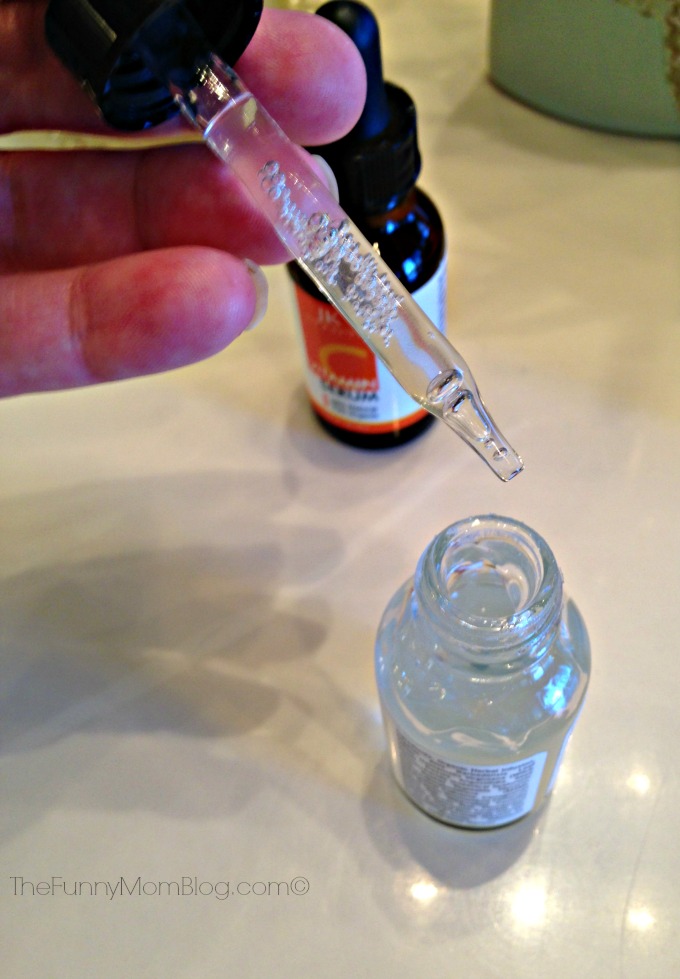 My Joy & Karma Beauty Serum Experience
I have been using both the Joy & Karma Vitamin C Serum and the Joy & Karma Hyaluronic Acid Serum continuously for two weeks and I have seen a vast improvement in my skin's overall health. My complexion appears clearer, my skin feels and looks softer and if I didn't know any better I would say I look younger! I highly recommend giving Joy & Karma's beauty serums a try for yourself. I even have an amazing discount code for you to use as well.
Joy & Karma's Hyaluronic Acid Serum is available on Amazon
Joy & Karma's Vitamin C Serum is available on Amazon 
 but before you click over to buy, check out the amazing deal below first!
Joy & Karma 50% off EXCLUSIVE COUPON
The coupon is valid for purchases of either the Vitamin C Serum, Hyaluronic Acid Serum, or both products, at Amazon
The coupon will give a 50% discount based on the current price (e.g. if the current price is already discount, the 50% discount coupon will be applied on top of that)
Only one (1) redemption per customer
*Use RKD6XNGG for the promotion code*
But hurry because the coupon expires on September 15, 2014!
Read More Funny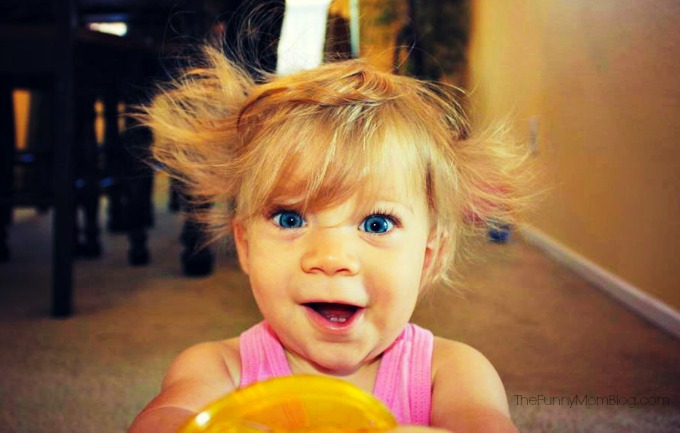 This little cutie will be 4 years old on Sunday. It seems like just yesterday she graced out lives with her big blue eyed shiny shininess. She was the happiest baby and she turned into the happiest, most enthusiastic kid. I love her exuberance and her sheer delight in even the most mundane of things….
Guardians of the Galaxy opens in theaters everywhere tomorrow Friday, August 1st! In celebration of this amazing film Marvel and Lego fan Forrest Whaley has created this adorable LEGO trailer. You must watch it. Like GUARDIANS OF THE GALAXY on Facebook Follow GUARDIANS OF THE GALAXY on Twitter
In the Fall of 2013, my youngest son dropped my computer on the ground and the nasty fall broke my hard drive losing almost 6 months worth of pictures. Thousands and thousands of pictures. In those pictures that were lost were all of our 2013 summer adventures, my daughters amazing 3rd birthday, the last day…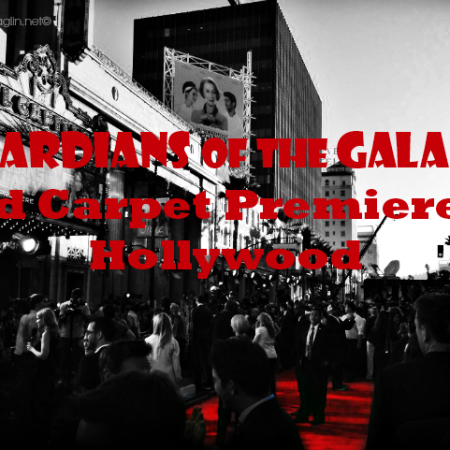 Magic in the galaxy touched down in Hollywood last week for Marvel's "Guardians of the Galaxy" world premiere. The air was all abuzz with so much excitement is was palatable. The intersection of Hollywood and Highland was shut down to welcome celebrities, movie makers and fans to celebrate the premiere of the out of this world drama/comedy…