Hot Off The Presses Funny
By Desiree Eaglin Leave a Comment
This shop has been compensated by Collective Bias, Inc. and its advertiser. All opinions are mine alone. #ChooseSmart #CollectiveBias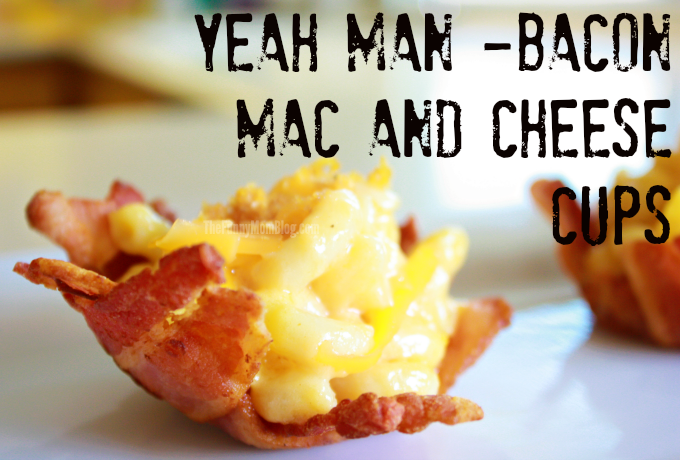 If I had to choose just one comfort food to eat for the rest of my life it would most definitely be macaroni and cheese. Always perfect, always filling and so super easy to make, macaroni and cheese is simply delightful. To mix up my most favorite recipe up a bit I decided to go out on a limb and create these wonderful little artistic cups of goodness to place my favorite comfort dish in. Yeah Man – I created bacon bowls. The combination of the salty, crunch meat with the creamy, gooey macaroni in cheese was a match made in foodie heaven. Recently, the kids and I attended the Grand Opening of the Smart & Final Upland, California store where I picked up all of the ingredients I needed to create my wonderfully filling bacon mac and cheese cups recipe.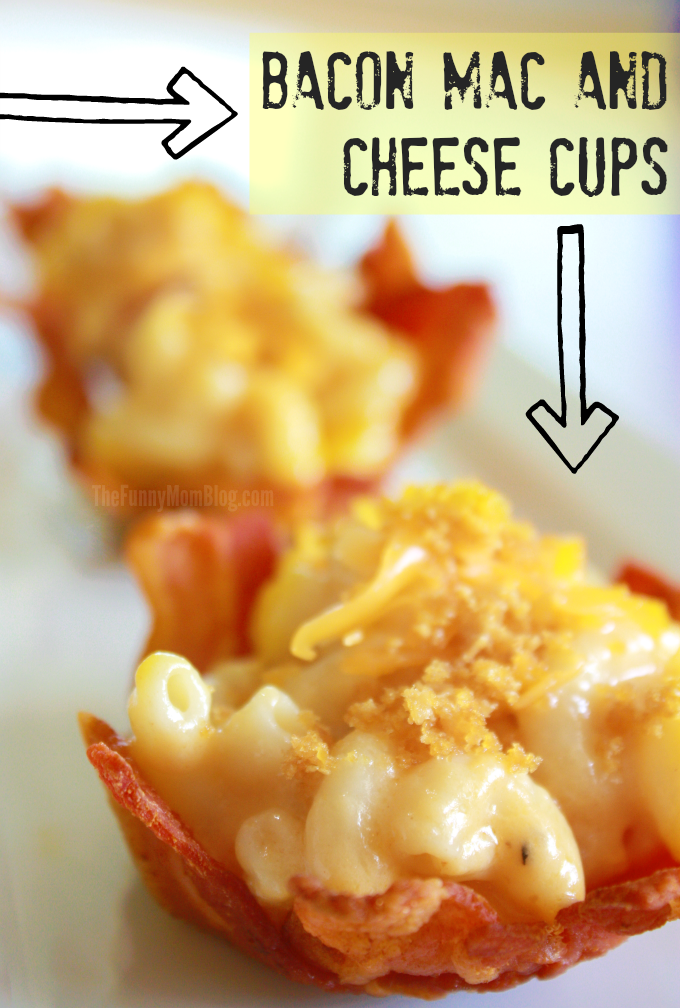 You want to faint right? Don't worry, I almost did faint after I got one taste of this amazingly delicious recipe too!
Macaroni and Cheese
Ingredients
8 oz First Street Small Elbow Noodles
6-8 oz of First Street Sharp American Cheese
1 Cup First Street WHOLE Milk
1 stick Butter
1 Teaspoon of Salt
1 Tablespoon First Street Flour
Fresh Cracked Pepper to Taste
Directions
Cook noodles according to package directions. Rinse and set aside.
Melt butter  in Saucepan
Add flour under medium to low heat and stir constantly.
Cook butter and flour until thick and golden brown
Add Milk
Cook Butter, Flour and Milk until a gravy consistency. Stir constantly.
This is your "roux" and the base of your cheese sauce.
Add salt and fresh cracked pepper.
Add cheese. Stir constantly until cheese is melted.
Remove from heat
Add noodles and stir.
Fried Bacon Bowl Recipe
Ingredients
6 First Street Bacon Strips
Directions
Cut bacon strips in half
"Basket Weave" two half bacon strips horizontally and vertically together in a basket shape. I found two bacon strips to be the perfect muffin cup shape size
Making sure to keep the basket weave together and flat, fry the bacon until done. You don't want the bacon burnt and you don't want it too soggy
Keep an eye on your flat basket weave bacon while frying. Put pressure on bacon with flat end of spatula to avoid too much bacon curling
When bacon is fried pick up flat basket weave bacon and place in large muffin tin. With a large wad of white paper towel, press center of basket weave bacon into cup while the bacon is hot and pliable.
Allow bacon to cool in muffin tin approxiametly 5 minutes
Lift basket weave bacon cup from muffin tin and pat bottom dry with a white paper towel to prevent soggy bottom.
Step-By-Step Instructions:
Start with the best ingredients (First Street of course!):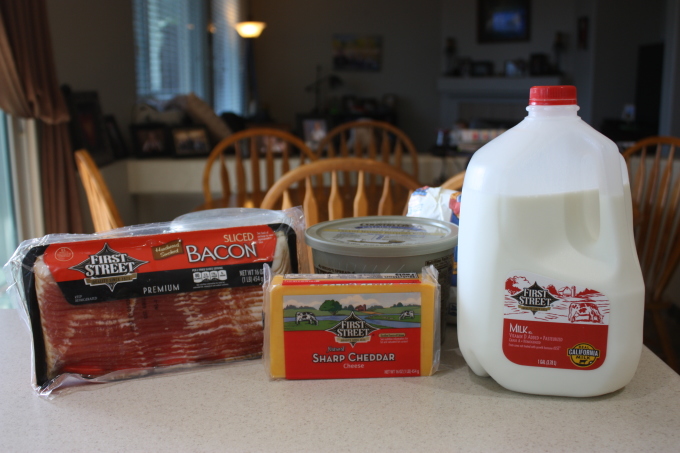 Cut 2 First Street bacon strips in half: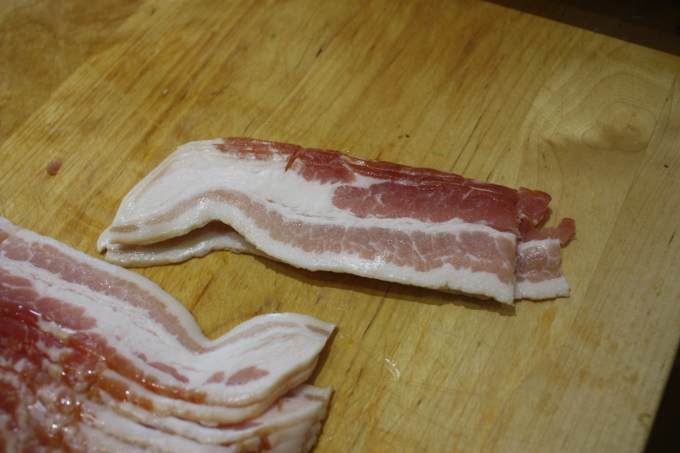 "Basket Weave" the 4 pieces of bacon together, place flat in hot frying pan: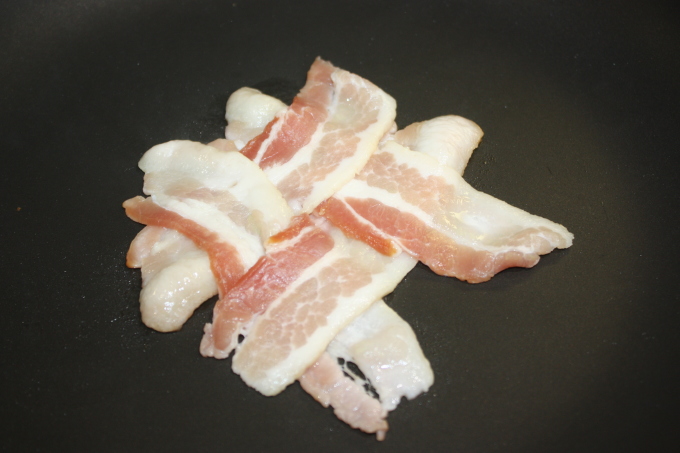 Keep bacon from curling up by putting pressure with flat end of spatular: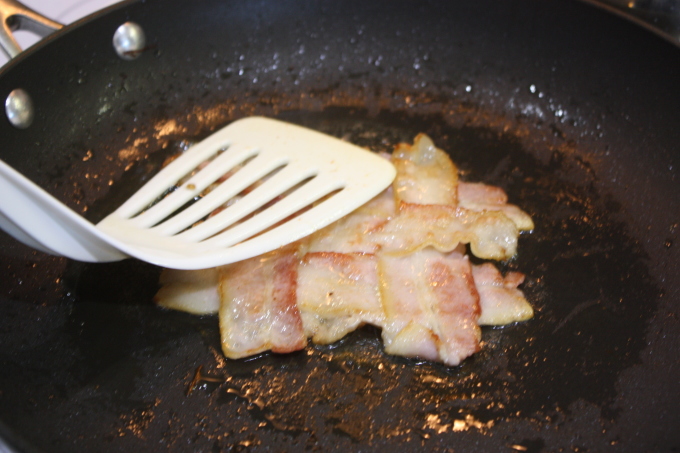 When bacon is cooked, place in muffin tin while hot and pliable: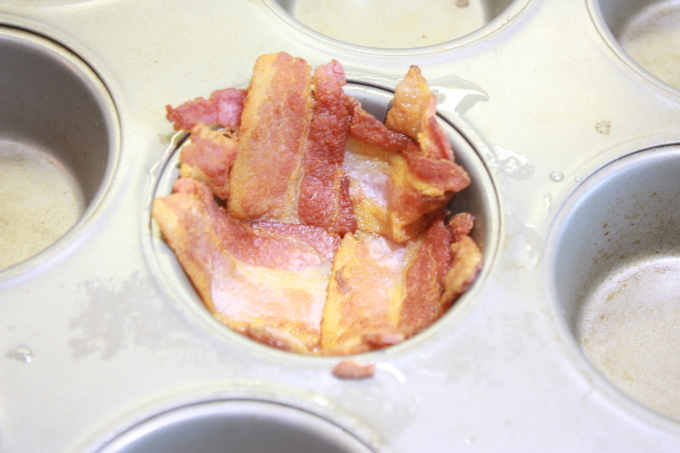 Using a white paper towel, push center of basket weave bacon down to create a bacon cup: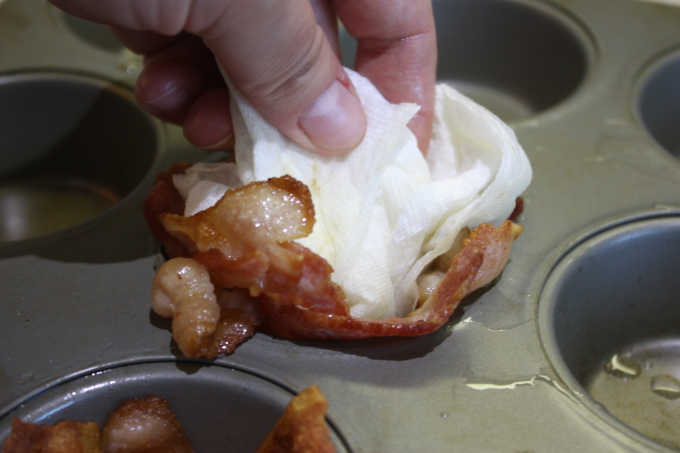 It's very simple to do as long as you've cooked the First Street bacon correctly. While the bacon is hot out of the pan it is still very flexible – once it cools it will retain the shape of the muffin tin, the perfect size cup for macaroni and cheese!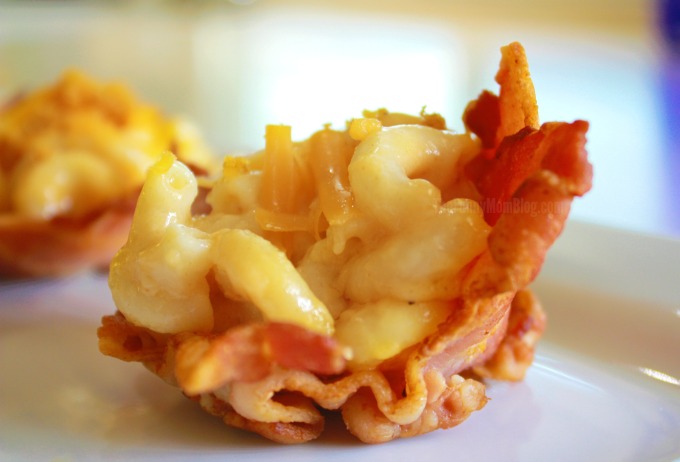 Drooooooool!

What is it you look for in a store? 
I look for well-stocked shelves, happy, helpful employees, convenience, fresh produce and competitive prices in my stores of choice. Recently, the little kids and I attended the grand opening of the Smart & Final store in Upland, California. There were hundreds of people shopping the super great deals of the day and there just so happened to be a friendly employee at every aisle ready and willing to help. I could not believe how well organized the new Smart & Final store was and I was beyond excited to see the bulk & save section – my inner Type A OCD personality squealed with delight!
As a busy mom, I love shopping at Smart & Final whenever possible because Smart & Final carries warehouse size items without a club fee, making shopping easy, less expensive and less daunting to shop in than a big warehouse store – and that makes mom's lives easier!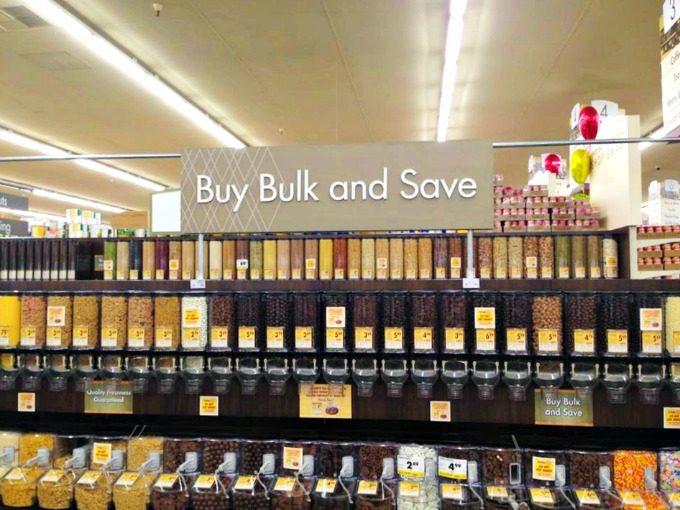 This was my first time seeing such a large fresh produce and bulk and save section at a Smart & Final and I have to say I was very impressed. I love the idea of the bulk and save items and I hope my local Smart & Final gets one in soon. My kids got to each choose a treat and they loved that.
The Upland Smart & Final store was very well stocked, most especially in the baking aisle. They must have known I was coming!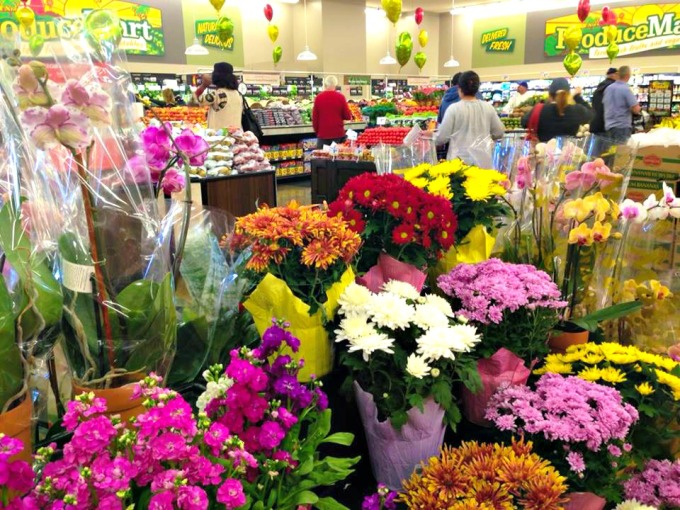 What I liked best about the new Upland Smart & Final is that upon entering the store you walk in to the fresh produce section. The Upland store's fresh produce section was massive!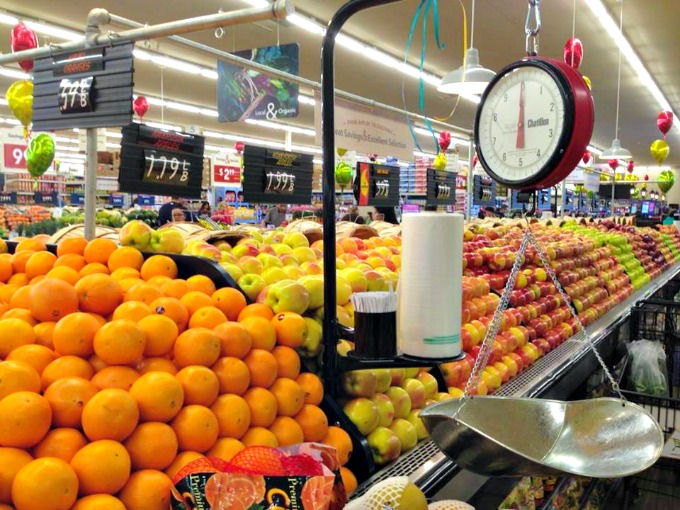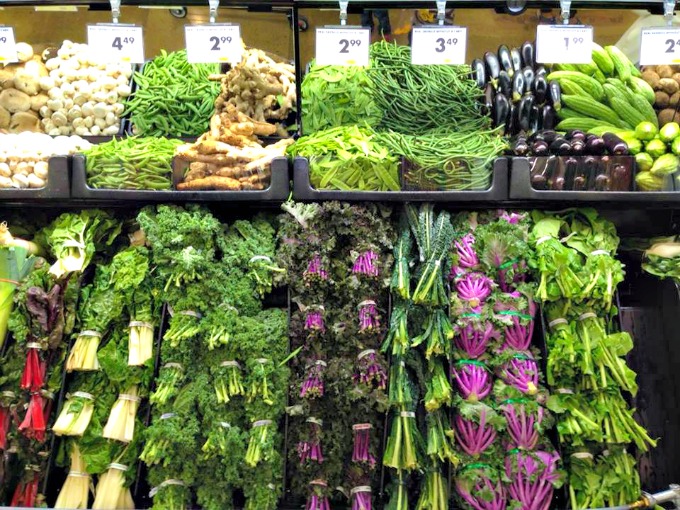 There were several checkout stands and an employee to help usher everyone to an open one. Above all else, I loved the helpful friendliness of the Smart & Final employees the most!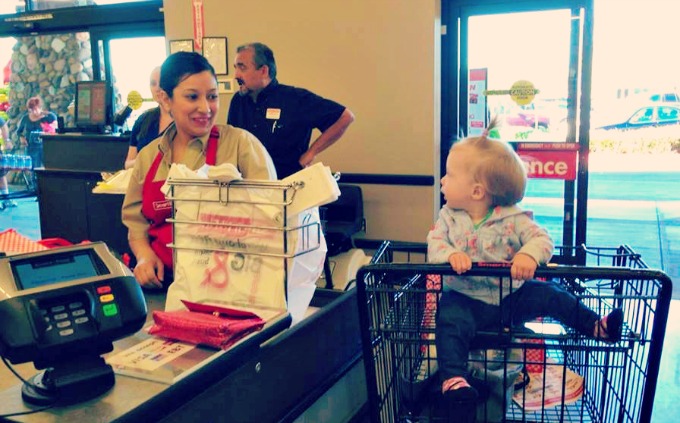 Look at this guy waving at all the cars!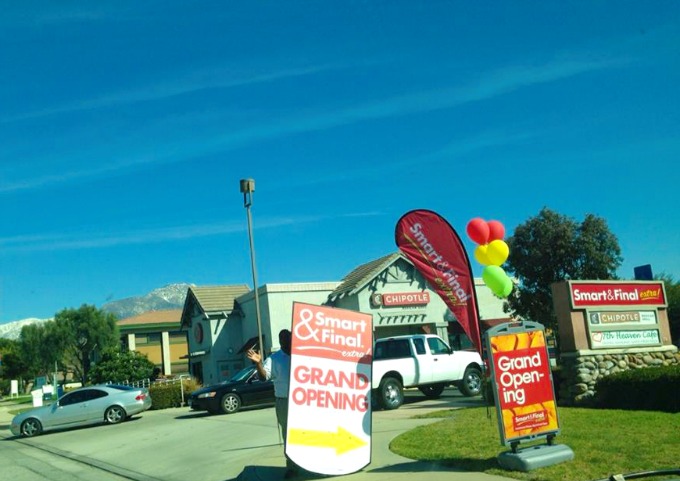 The next time you're in the area I hope you stop by the Upland Smart & Final, you'll love it! In the meantime check out Smart and Final on Twitter and on their Smart and Final's Facebook Page.
Smart & Final 
1028 North Mountain Avenue
Upland, CA 91786
Phone: (909) 981-0250
Smart & Final Website
Read More Funny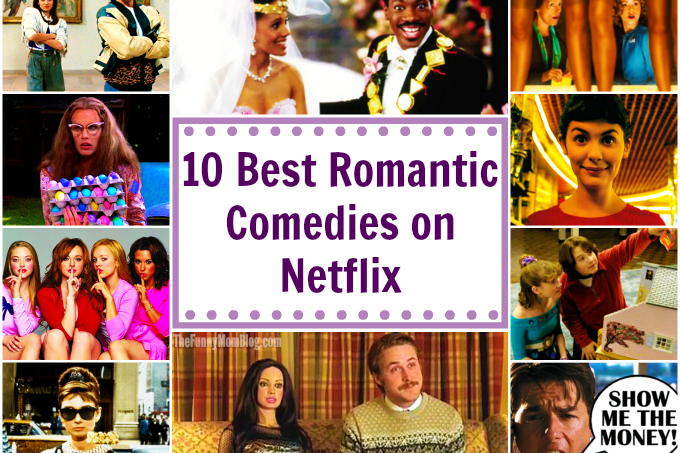 I am a member of the Netflix #StreamTeam all opinions are my own. Sometimes all I want to do is curl up on the couch with my hubby and my cat…or sometimes just with my cat and watch a funny movie. Thanks to Netflix we have hundreds of thousands of movies to stream right at…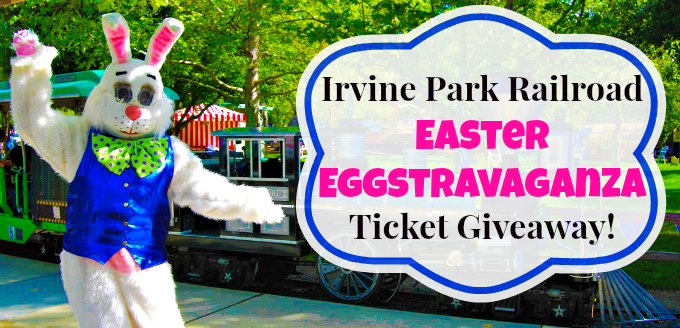 The flowers are blooming, the weather is perfect and it's time for the annual Irvine Park Railroad Easter EGGstravaganza! We love going to the Irvine Park Railroad any time of the year, but there is something so sweet about the spring. We're looking forward to going this year as a family of 6! I'm still…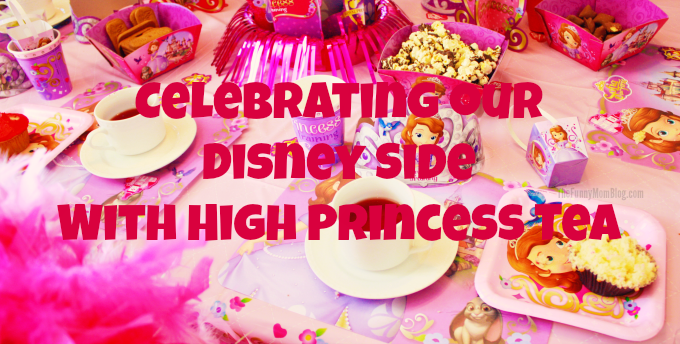 The Reveal What could be sweeter than a princess tea party? When we received our Disney Side party kit in the mail my 4 year old daughter claimed that everything in it was hers and she was NOT going to share with her little brother. Then she persisted every day asking when "her" party was…
Being a busy mom means that I have been shopping online more and more because I simply do not have the time or energy to schlep my kids from store to store. I have literally become a master online shopper and I can tell you with all certainty that Amazon has the biggest selection of…