Nothing can cheer up a kid quite like Disney can. My oldest just started the 1st grade a week and a half ago and it has been a little bit of an adjustment for him. He was placed in a 1st-2nd grade combo class and getting used to the new routine and making new friends has been work. Now that he's in school for 6 hours as opposed to the 3 hours he was used to in Preschool and Kindergarten, it has him feeling super drained (and hungry!) at the end of the school day. However, we still have baseball practices and games and homework and all sorts of other things going on, so he's had quite a time trying to keep up. His spirit has been down and I wanted to do something extra special to brighten his day.
To cheer him up, the little kids and I went to Walmart while he was in school and picked up some special Disney toys just for him. He loves Disney Pixar Cars and recently, Walmart started stocking Disney Planes toys too. Just like an other average 6 year old boy, he loves Cars and Planes and I knew that this gift was going to rock his socks off.
There were tons and I mean tons of Disney Pixar Cars and Disney Planes toys to choose from at Walmart. But they were going fast. One minute I was looking at picking up a Suki Diecast Cars 2 for my daughter and the next second it was gone. Gone! I was so mad I hadn't grabbed it and put it in my cart immediately. We ended up choosing several Diecast Disney Pixar Cars and Disney Planes for him because he loves collectibles. We also picked up a Dusty pull & fly buddy.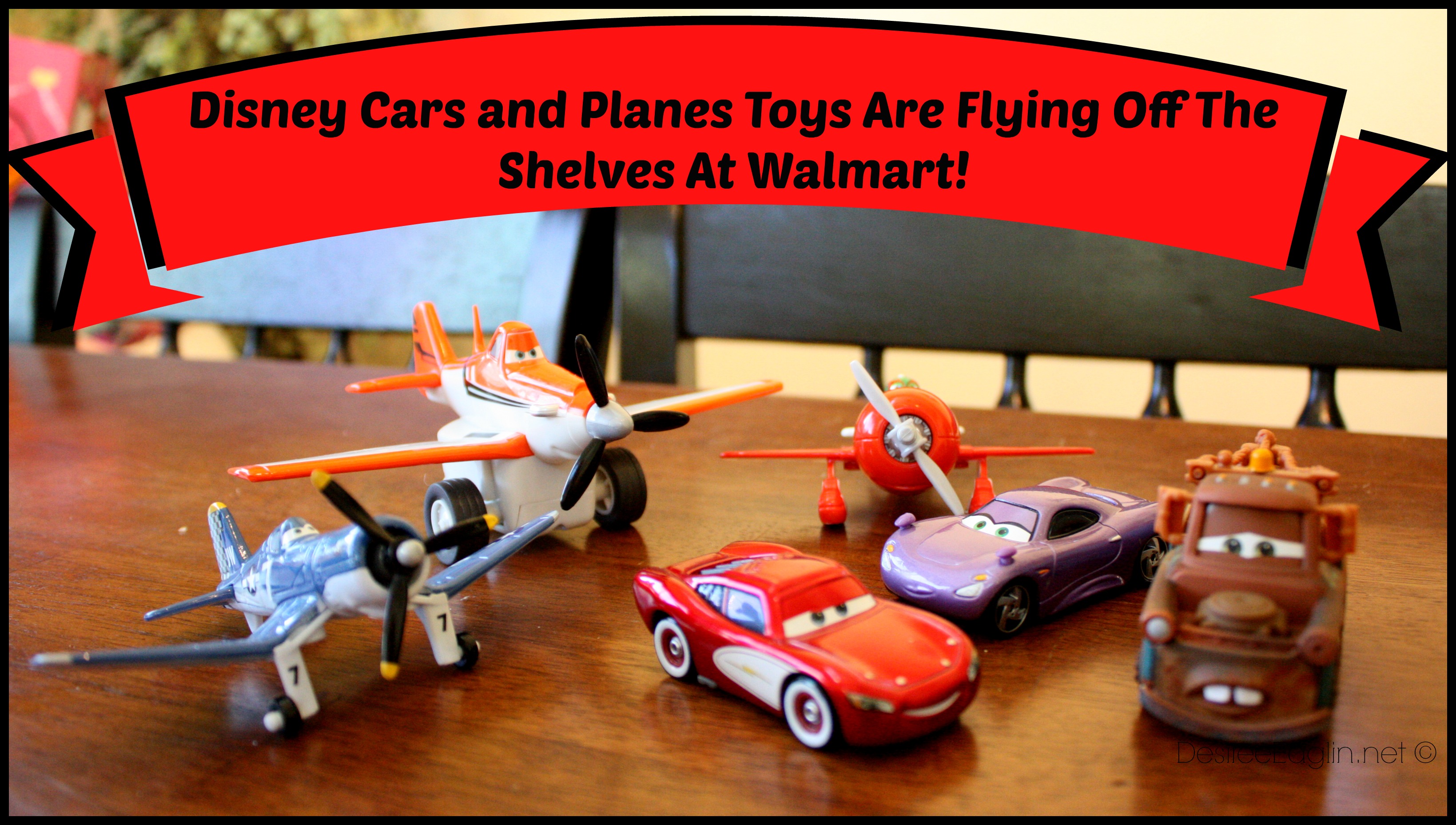 When we got home from the store, we wrapped the Disney Pixar Cars and Disney Planes toys and waited patiently for him to come home from school. When he opened his "cheer up buddy" gift from us, his happiness was contagious. It was the exact reaction I was hoping for.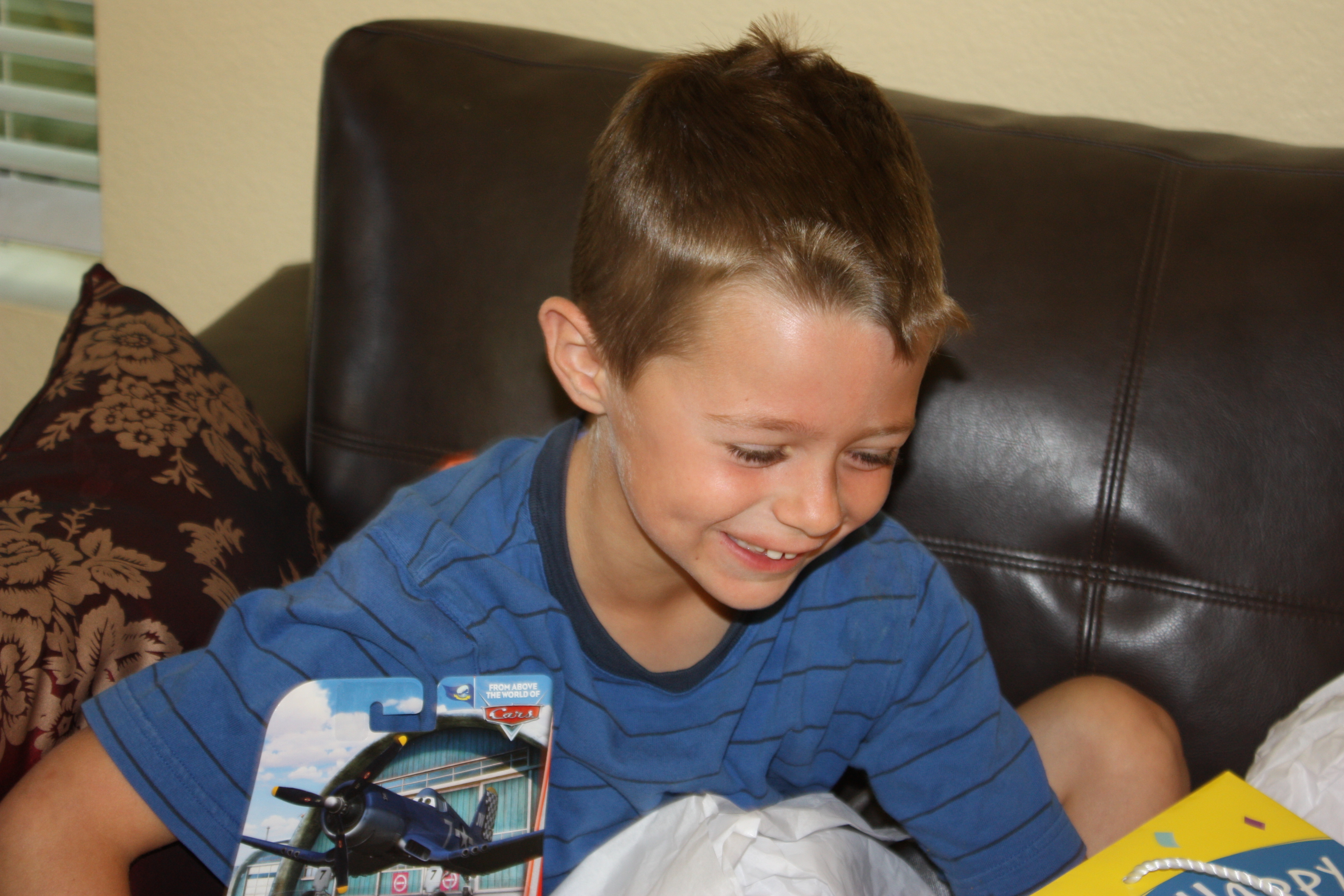 The thoughtful gift from us snapped him out of his exhausted glum and made him happy.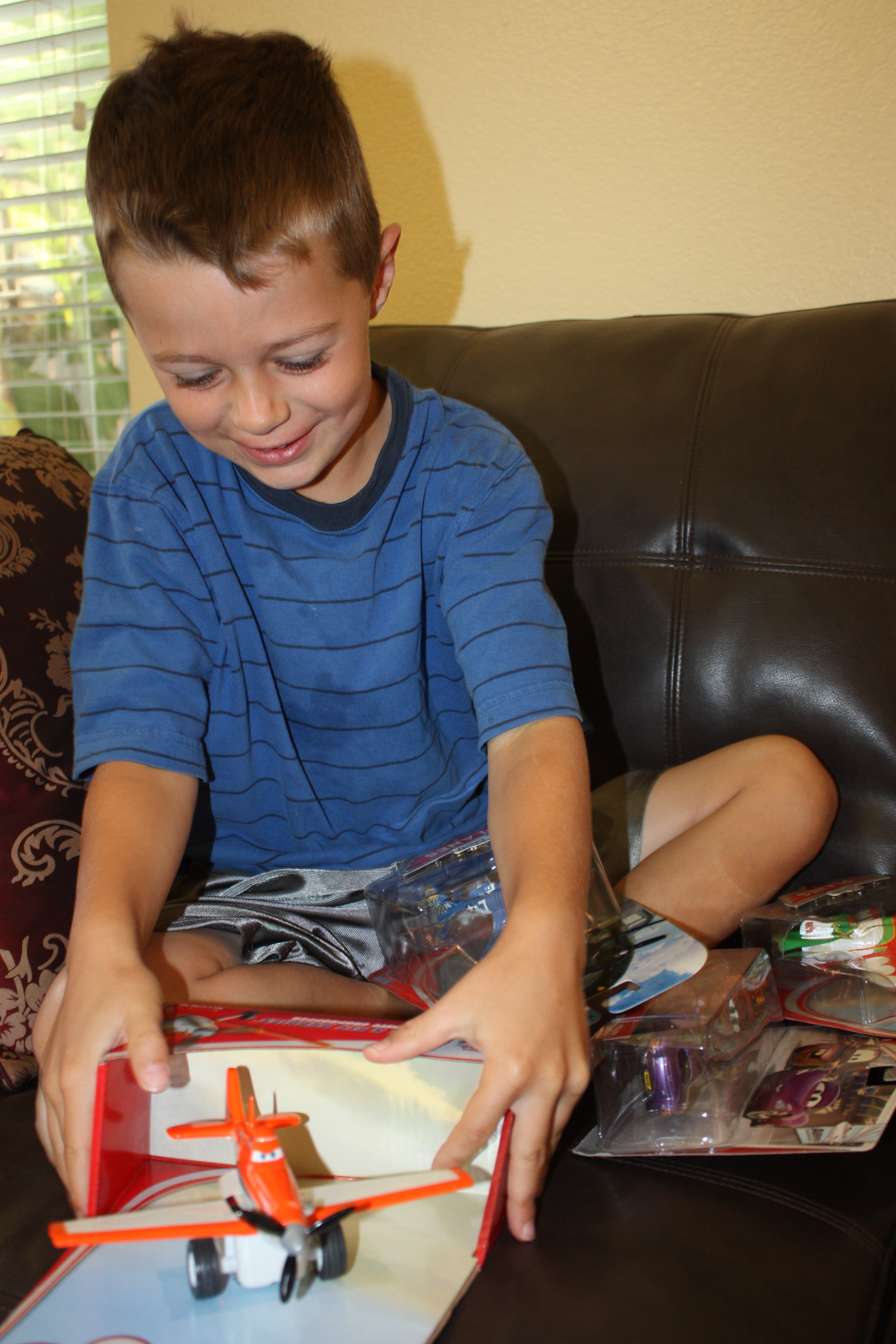 I mean, your heart swells when you see these pics right? How could it not? I knew that Disney Pixar Cars and Disney Planes would cheer him up and I knew that our thought and effort would not go without notice from him. We specifically chose the toys and characters that we knew he would like. Here is a breakdown of what we got.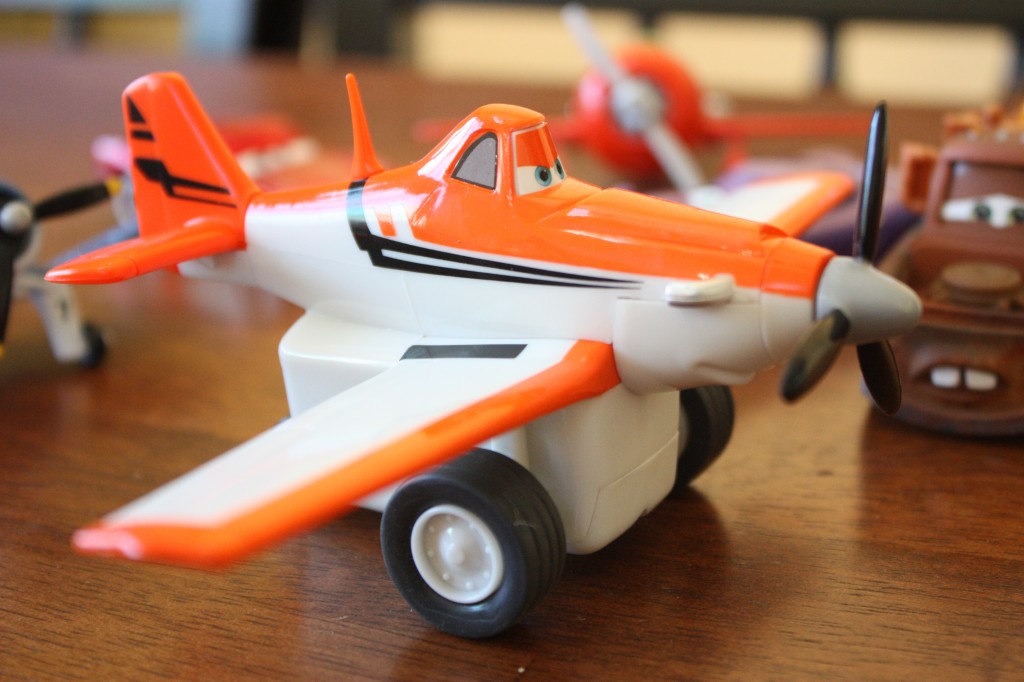 Dusty Crophopper Pull & Fly Buddies 
-My son loves these kinds of toys where you pull back on them and release and they zoom off on their own. He literally cracks up at them, especially when they crash into the dog, his sister or my feet.
Suggested Retail Price: $10.99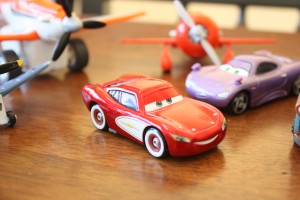 Cruisin' Lightning McQueen DieCast
I mean, this thing is so cool looking I couldn't pass it up. McQueen is my fav.
Suggested Retail Price: $3.99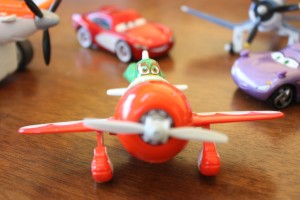 El Chupacabra DieCast
-We knew that my son would get a kick out of this one. His eyes slay me.
Suggested Retail Price: $5.99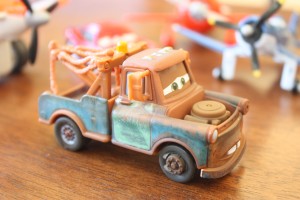 Cars Characters 2 Pack Diecast
-We knew that he would be so happy to round out his current collection of Disney Cars toys with Holley Shiftwell and Airport Mater
Suggested Retail Price: $7.97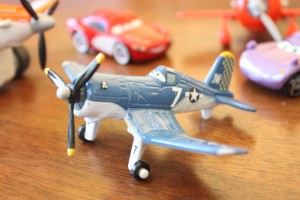 Skipper Diecast
-My son loves jets and he loves collecting diecast cars and jets. We knew Skipper was going to make his day.
Suggested Retail Price: $5.99
Making his day with the magical world of Disney Cars and Disney Planes toys from Walmart was so special to us. If you have a little Disney Pixar Cars and Disney Planes enthusiast at home, I highly suggest you run to your nearest Walmart today to pick up these adorable toys while you can before they fly off the shelves!
Check out Disney Pixar Cars toys at Walmart online.
And check out my and the little's shopping trip to Walmart to buy all this cool stuff on my Google + album!